Palpod is a startup pitch created for SCAD
StartUp
,

an annual week long design sprint hosted by
FLUX
in collaboration with
SCADPro
. StartUp is a highly competitive event that attracts participants from all majors  and level who are then mentored and judged by industry professionals. This year a total of
93
teams competed in the design sprint. My team consisted of
5 members

: 
Assata Norment and Hypo Liu
(UX

Designers)
, Elianna Gregory
(Illustrator)
, Janus Chan 
(Graphic Designer)
and myself a
Motion Designer
. 
This pitch was a team effort and the whole team contributed in aspects that were within and outside of the scope of what they each specialize in. My role in the team was also more than that of a motion designer and my contributions includes:
- Actively participating during the ideation process in collaboration with the team.
-Conducting user research both online and offline research in the forms of google search, creating survey and talking to people to understand the target user and define their pain points. 
-Conducting product research to better understand and support the cost structure for this project.  
-Collaborating with an illustrator and a graphic designer to create visual assets that define the branding of our app.
-Collaborating with UX designers to create a 30 seconds animated video that showcases our app's UI and it's usability. 
-Creating a 3D mock up of the product linked to our app.  
With the number game of followers and algorithms taking over an oversaturated social media, the idea of spontaneous interaction becomes close to non-existent and loneliness is starting to become a crisis of its own. 
According to our survey, people are saying: 
"All social media apps are becoming the same."
"I'm always on social media but I never meet people."
"I wish my life was more exciting."
Statement:
With social media apps becoming more homogenized and rampant, people miss the feeling of genuine excitement that comes with spontaneous social interaction.
How might we create a social media app that is distinct, genuine, and brings back the excitement of interaction in the modern age?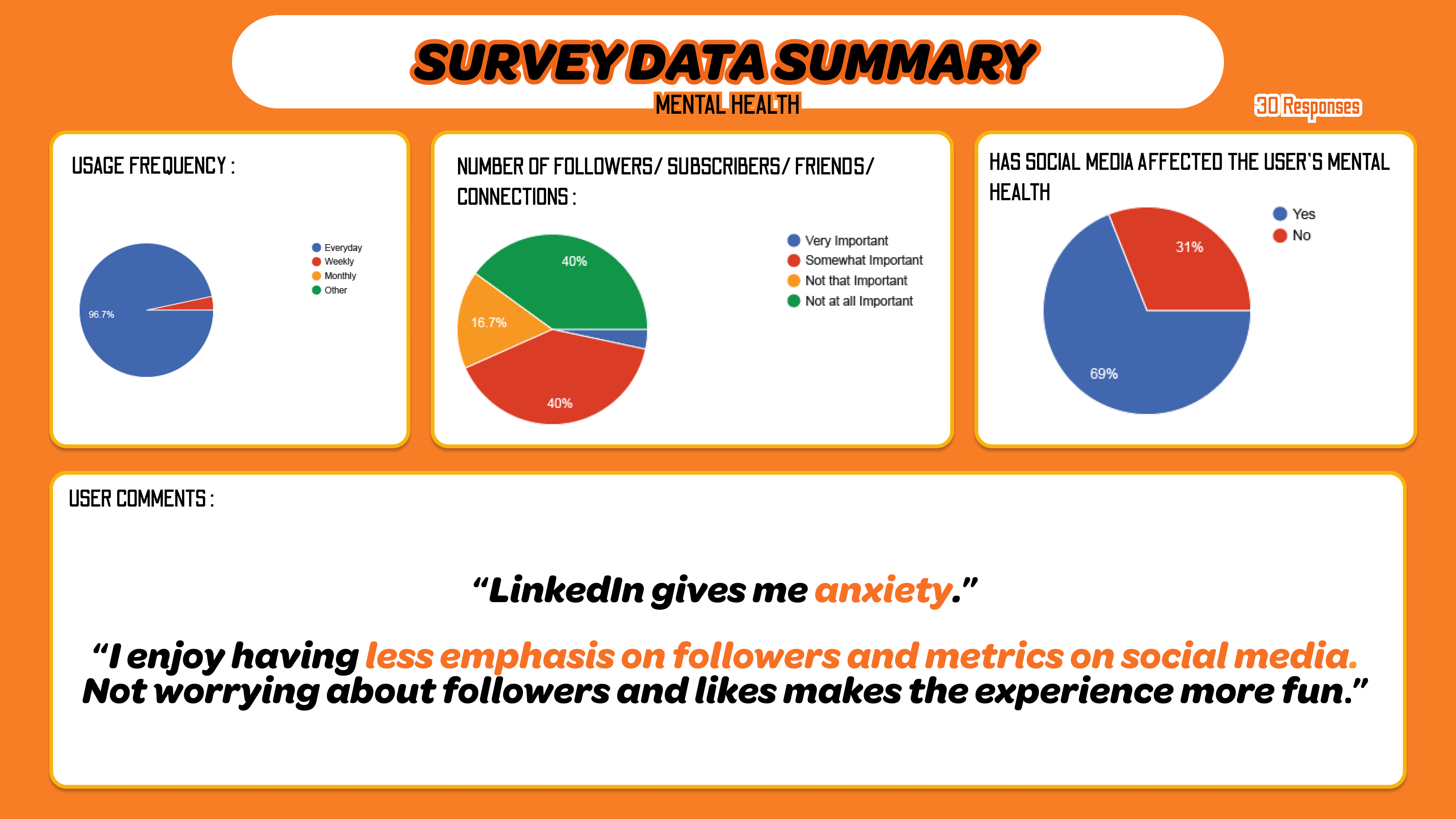 ADDITIONAL RESEARCH:
Is the social media market oversaturated with 'influencers'​?
: https://www.linkedin.com/pulse/social-media-market-oversaturated-influencers-claire-groves/
An Introduction to Social Media Algorithms:
https://wearetmc.co.uk/an-introduction-to-social-media-algorithms/
Anxiety, loneliness and Fear of Missing Out:
The impact of social media on young people's mental health: https://www.centreformentalhealth.org.uk/blogs/anxiety-loneliness-and-fear-missing-out-impact-social-media-young-peoples-mental-health
Loneliness won't end when the pandemic ends:
https://edition.cnn.com/2021/04/17/us/loneliness-epidemic-covid-wellness-trnd/index.html
How to Get Started with Penpals:
https://haleyisendostrong.wordpress.com/2020/12/15/how-to-get-started-with-penpals/
83 Benefits of Journaling for Depression, Anxiety, and Stress:
https://positivepsychology.com/benefits-of-journaling/
Palpod is a penpal app that simulates the feeling of excitement, spontaneity and mystery of the pen-pal experience with your smartphone and the physical

PalPod mailbox.
MISSION STATEMENT:
Our mission with Palpod is to
bring back
the feeling of
excitement with spontaneous interactions
through
an elevated and
modern
t

ake on the
penpal experience
. 
The PalPod app lets you sign up and set preferences in order to match you with a pal.  Once the preferences are set, you are assigned a digital mailbox number where you will receive your mails. The app also lets you decide how long it will take for your mail to arrive, simulating real life mail sending and receiving experience. 
You have the option of keeping your identity anonymous and after exchanging a certain number of letters you and your pal can choose to reveal your identity. 
Some in-app features include customizing letters with stickers, sending mail to pals using their digital mailbox number and signing up for the palpass which is a subscription plan that lets you connect with unlimited number of pals. 
In addition to the app, the user has the option of purchasing a physical palpod that tracks your mail and prints your letters in real-time. It uses thermal printing technology and comes in a portable design with three color options. 
The physical palpod can be synced to the palpod app in order to track sending and receiving of mails. When a user receives a mail they receive a notification on their app and the flag on the physical palpod rotates down to indicate they have mail. The user can then print the app by sending the command through the app. 
Since the printer uses thermal printing technology, the user would not have to worry about ink cartridge replacement.